Are you looking for an easy way to spruce up your bathroom décor? Installing a new faucet is a quick, cost-effective solution. In this guide, you'll learn how to choose and install bathroom faucets for enhanced functionality and style. Unlock the potential of your dream bathroom with this step-by-step guide!
Introduction
Installing bathroom faucets requires careful planning and research in order to ensure optimal functionality and style. This guide is intended to provide you with a step-by-step guide on how to properly select and install bathroom faucets in your home.
This guide begins with a simple introduction of the various types of bathroom faucet types, as well as helpful tips on how to properly measure your sink for a new faucet. We then discuss the important factors that must be taken into consideration when selecting a bathroom faucet, such as material selection, finish, installation options, and features. Lastly, we provide detailed instructions on how to install the new faucet correctly so that it looks great and functions optimally.
Importance of bathroom faucets
Bathroom faucets can provide functionality and beauty to a bathroom. When installed correctly, faucets can improve the style and overall appeal of a room, as well as enhance its functionality for everyday usage. Additionally, modern-day bathroom fixtures come with a great number of features that can help make your home more sustainable and ecofriendly; for example, you may find options like a touchless design or built-in water conservation technology. Choosing the right faucet for your space is essential if you want to provide both form and function to your bathroom.
In this guide, we will discuss how to select the right bathroom faucets based on different design styles and other functional factors such as material construction, competitive pricing among many others. We will also cover step-by-step instructions on how to properly install it. Finally, we'll discuss some important tips on maintaining your new fixtures so that they last for years to come.
The benefits of choosing the right bathroom faucet
The bathroom faucet is one of the most visible and utilised fixtures in the entire home. Finding the right bathroom faucet with the perfect blend of functionality and style will truly elevate your bathroom to a modern or timeless design. With a wide range of designs and finishes, it can be hard to choose which one is best for you. To make choosing easier, here are some benefits that come with selecting the right bathroom faucet:
Increased Functionality: The right bathroom faucet can provide improved functionality in many different areas – from providing convenience features (such as temperature control) to reducing water usage through more efficient designs. Many new models come with built-in technology that lets you control your water flow easily, providing convenience and comfort when using different sinks tones such as white marble or stainless steel vessel sinks. This latest technology in modern-day bathroom fixtures will make any designer's dream come true!

Improved style quotient: Fitting a new faucet can add a fresh touch to any existing design theme in your home. Contemporary or traditional styles are available to suit all tastes – from modern chrome designs on black or white marble lavatory bases, to brushed nickel contemporary recessed notions fit for any décor! The harmonious mix of form and function makes these an ideal choice for shower areas and powder rooms alike.

Cost savings: Eco-friendly designs have become increasingly popular over time. Modern low-flow technology conserves energy and reduces water waste with minimal effect on performance levels – making these an ideal choice for those looking to save money in the long term while still enjoying top quality performance levels today!
The importance of proper installation
Improper installation of a bathroom faucet can affect both its functionality and how it looks, so it is important to understand installation techniques and to do it properly.
When installing, consider the current plumbing system and the type of faucet you are trying to install. Some faucets require different types of plumbing than others. Additionally, the type of sink you have already installed may change what kind of faucet will fit properly.
It is important to ensure that all pieces are tightened correctly during installation in order to ensure a secure fit as well as prevent leaking. Understanding instructions and product manuals carefully can help reduce chances of damaging the faucet in any way during installation. Knowing which tools are necessary for the job is also important, especially when parts have to be welded or brazed together; otherwise you could damage not only your newly purchased faucet but also your existing sink!
If necessary, seek professional help for proper and safe installation.
Factors to consider when choosing bathroom faucets
Factors to Consider when Choosing Bathroom Faucets
When it comes to choosing the right faucet for your bathroom, there are several considerations you should bear in mind. These include:
-Faucet type: choose from widespread (two handles and a spout), centerset (single-lever handle with a central spout), wall-mount, and single-hole faucets. Depending on your preference and existing setup, select the most suitable unit that coordinates with other pieces such as vanity or countertop.
-Faucet height: depending on the sink style and bowl shape, you should measure for the required height of your faucet. The reach of the spout must be sufficient to clear any basin obstructions so that water can flow freely and without splashing up onto the sink area or countertop.
-Finish selection: Fixtures come in various materials such as oiled bronze, stainless steel, chrome gold etc., so determine which finish works best for your bathroom decor theme before making purchace decisions.
-Water pressure: Check whether low or high water pressure is needed for optimal operation before installation. Too low a pressure can cause inadequate cleaning power while too high will result in waste of water resources which could be damaging to our environment over time.
Faucet style and design
When it comes to choosing the correct style and design for a bathroom faucet, there is an important decision to be made: should you go with a single-handled or double-handled faucet?
Single-handled faucets tend to be easier to use and clean as they require only one handle for operation. However, they usually have less options for controlling temperature and water flow than double-handled faucets, which have separate handles for hot and cold water. Double-handled faucets may also give more flexibility in terms of design, since they can accommodate a wider range of sink configurations.
Aside from style and design, there are other considerations that should factor in when selecting your bathroom faucets. It is important to choose fixtures based on their size in order to ensure that they fit properly on the sink and countertop. Additionally, you may want to select a metal finish that complements the overall aesthetic of your bathroom decor.
Once you've chosen the right style and finish, proper installation becomes essential. It would be wise to consult with a qualified contractor or hardware store employee before attempting this job yourself. To complete this project successfully it is advised that you carefully follow the instructions provided by the manufacturer as well as any applicable local codes.
Material and finish
When selecting a bathroom faucet, the material and finish should be chosen based on functionality and overall style of the decor. Many manufacturers offer different color and finish choices, making it easier to match existing fixtures, furniture, or appliances.
The most common materials used for faucets are stainless steel, chrome, brass, bronze and copper. Each of these materials can provide a unique look and when blended with finishes such as satin nickel or oil-rubbed bronze can also help create a unique style. Be sure to choose a finish that will be durable and last for many years —this includes opting for scratch-resistant finishes like powder-coat metals or matte finishes.
It's also important to consider maintenance when selecting a faucet material: chrome is easily wiped clean with a damp cloth but more intricate styles and more detailed materials may require periodic polishing in order to keep them looking their best over time. Additionally, stainless steel is unaffected by water hardness and does not show discoloration; however, it can get scratched if not kept clean properly. Similarly brass is prone to discoloration if it's exposed to too many cleaning products or water containing high levels of chlorine or minerals. Copper has unique antibacterial properties due to its natural patina which may inhibit bacterial growth in bathroom environments.
Water flow rate and aerator
When installing bathroom faucets for improved functionality and style, it is important to consider the water flow rate and aerator. Water flow rate is measured in gallons per minute (GPM) and it affects how quickly your sink fills with water. Standard installations typically require flow rates between 1.2 and 2 GPM. A higher flow rate might be considered for a deep or wide sink, or upon request from your local plumber or building codes.
An aerator is a small fixture that fits onto the end of the faucet spout, which mixes air into the water to reduce splashing and conserve water usage. There are various types of aerators with different finishes, sizes, shapes and patterns that you can choose from depending on your needs. While they all share the same basic function of mixing air with water to conserve resources, some have features such as pause/resume control that can be useful when performing tasks at the sink such as brushing teeth or shaving.
Additionally, anti-clog models are available to help prevent debris buildup in the aerator over time due to sediment build-up in hard water systems – another great feature depending on your home's plumbing system configuration!
Types of bathroom faucets
When it comes to bathroom faucets, there are several types of faucets available that can give your bathroom a more modern look. From traditional to contemporary styles, here is an overview of the different types of faucets you will find:
Single-Hole Faucet – A single-hole faucet typically has one handle for both hot and cold water and is installed into a deck or countertop with a single hole. These are great solutions for bathrooms with limited counter space.
Wall-Mount Faucet – Wall-mount faucets are mounted directly to the wall behind the sink and provide plenty of room underneath the sink. They have separate hot and cold water handles that operate independently and can rotate up to 360 degrees for complete accessibility. These are great options if your bathroom has ample wall space available.
Vessel Faucet – Vessel faucets, also known as tall body faucets, have long spouts that provide added height above the sink bowl – these look especially elegant with vessel sinks but they can also be used with traditional sinks as well. Vessel faucets usually have separate hot and cold water handles but some models combine them into one handle for convenience.
Spread Faucet – Spread bathroom faucets feature two separate handles mounted on either side of a base that mounts directly onto the sink or countertop. These types of faucets come in a variety of styles from classic to modern designs; depending on your needs, you can choose between handspray units or waterfall units for added style and convenience.
Single-hole faucets
Single-hole faucets are becoming increasingly popular and the most common style found in bathrooms today. Single-hole faucets are easy to install — they're a one-cavity, countertop unit with a simple and clean look. The single-hole design means that the sink basin has only one hole drilled in it to house the faucet assembly. This is useful if you have a small or limited amount of space around your sink, as it doesn't take up much space.
When you're shopping for single-hole bathroom faucets, you'll want to consider factors such as handle type and number of holes before installation. There are several styles of single hole faucets:
Single handle – this type has all its functions controlled with just one handle placed above the spout base

Two handles – each control knob manages hot and cold water separately (also known as a wide spread)

Wall mounted – the spout is mounted directly onto your wall
Additionally, if your countertop features more than one sink basin, you may want to consider getting a mini-widespread faucet which offers somewhat of an extension reach into other basins. Also make sure to check for any extra valves/drain assemblies needed during installation before buying as some of these can be included along with other necessary parts for an easier and simpler installation process.
Centerset faucets
Centerset faucets, or mini-widespread faucets, are best installed in smaller bathrooms where there is limited space. This style of faucet combines the base and handles into one assembly with 4 inches between the two handles. Most centerset faucets come in sets of three pieces – a spout and two handles connected together– but more upscale versions feature decorative reservoir covers.
Since centerset fixtures require a three-hole installation, installing this type of faucet would sometimes require an extra step to close off an unused inner sink hole as well as deck mounting above the sink. Centerset models usually offer good value for money, especially if you're looking for a classic or traditional design, or want something that is easy to install and use.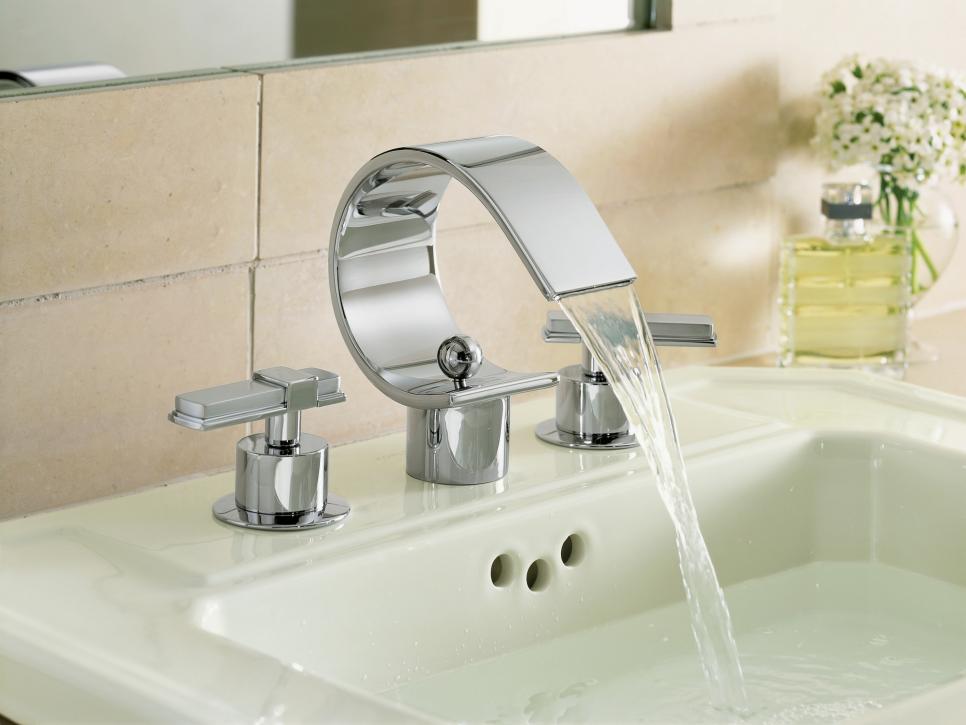 Conclusion
In conclusion, choosing and installing a bathroom faucet can be a daunting task. It's important to remember that the most important factors are functionality and safety. After safety requirements have been taken into consideration, consider the overall style of your bathroom and how your faucet choices fit in to complete the room's look.
With this guide you should now have the knowledge to make an informed decision when it comes to choosing, buying, and installing a quality bathroom faucet. With this in hand, you should now be ready to find the perfect faucet for your bathroom style and get it installed properly for timeless results.
See Also :