Do you feel like the bathroom is cluttered and unorganized? Is there a lack of storage solutions and functionality?
Here, we provide you with a complete guide on how to choose and install bathroom storage solutions, so you can bring order to your space and regain control. Get ready to transform your bathroom now!
Introduction
When it comes to bathroom storage solutions, there are a number of options available to help you maximize the functionality and organization of your bathroom. With the right storage solutions, you can dramatically improve your ability to keep things tidy and efficient.
Whether you're looking to maximize counter space, hide bulky items, or simply want more shelving space to organize your towels and supplies, understanding your storage options will help you make an informed decision. In this guide, we will discuss how to select the right storage solution for your bathroom and provide a few tips on how to properly install them in order to ensure an easy and efficient installation process.
Explanation of the importance of bathroom storage for organization and functionality
Bathroom storage is an integral part of ensuring a well-organized and efficient bathroom. Bathrooms that lack proper storage solutions can often become cluttered, chaotic, and even hazardous to one's health. Having sufficient countertops and cabinets can free up space while allowing for easier access to supplies and items.
Furthermore, proper storage solutions can also improve the overall aesthetic look of the bathroom while providing enough room to fit additional electrical or plumbing components if needed.
Whether you are looking for ways to optimize existing space or adding more features, it is important to understand each type of storage solution available before making a purchase decision.
Brief overview of the guide's content
The guide provides a comprehensive overview of the types of bathroom storage solutions available, considerations to take when selecting the right option, and step-by-step instructions on how to install it correctly.
This guide covers all the major types of bathroom storage solutions such as wall shelving divided into wall cabinets, locker and cupboards; freestanding storage with cabinets and racks; space saving corner shelving; recessed storage for things such as toiletries and medicines; over-the toilet storage options; and more.
Additionally, this guide also suggests tips on improving organization within such units under separate headings.
In short, this guide has been created to provide all the essentials on selecting and installing the most suitable bathroom storage solution for improved organizational efficiency in any size bathroom.
Assessing Your Bathroom Storage Needs
The first step to properly setting up and installing bathroom storage solutions is to assess your particular needs. This includes taking stock of how much products and items you need to store, their size and shape, and what type of bathroom environment you'll be putting them in. Once you've identified these items, you can begin to explore the best design options for the available space in your bathroom.
When assessing your bathroom storage needs, consider factors such as:
Notable cosmetic clutter such as toiletries and beauty products.

Bathroom essentials like washcloths, towels, tissue boxes, and other toiletries which will stay in the space most of the time.

Any larger furniture pieces that need extra storage space like shelves or cabinets

Bins or containers needed for organizing all of your items efficiently.

Accessories that may help enhance organization such as hooks, hangers, or wall mounted baskets
Identifying items that need storage
Knowing the kind of items that need storage in your bathroom is the first step towards a successful bathroom storage project. It will help determine the number and size of storage units you need and their positioning within the area.
Consider items, such as toiletries, cleaning supplies, cosmetics, linens, and towels. Additionally, think about any additional fixtures or furniture you might want to bring into the space and how they can be stored conveniently.
Once you have a list of items to store in your bathroom, it's time to start considering different types of bathroom storage solutions that can meet your needs.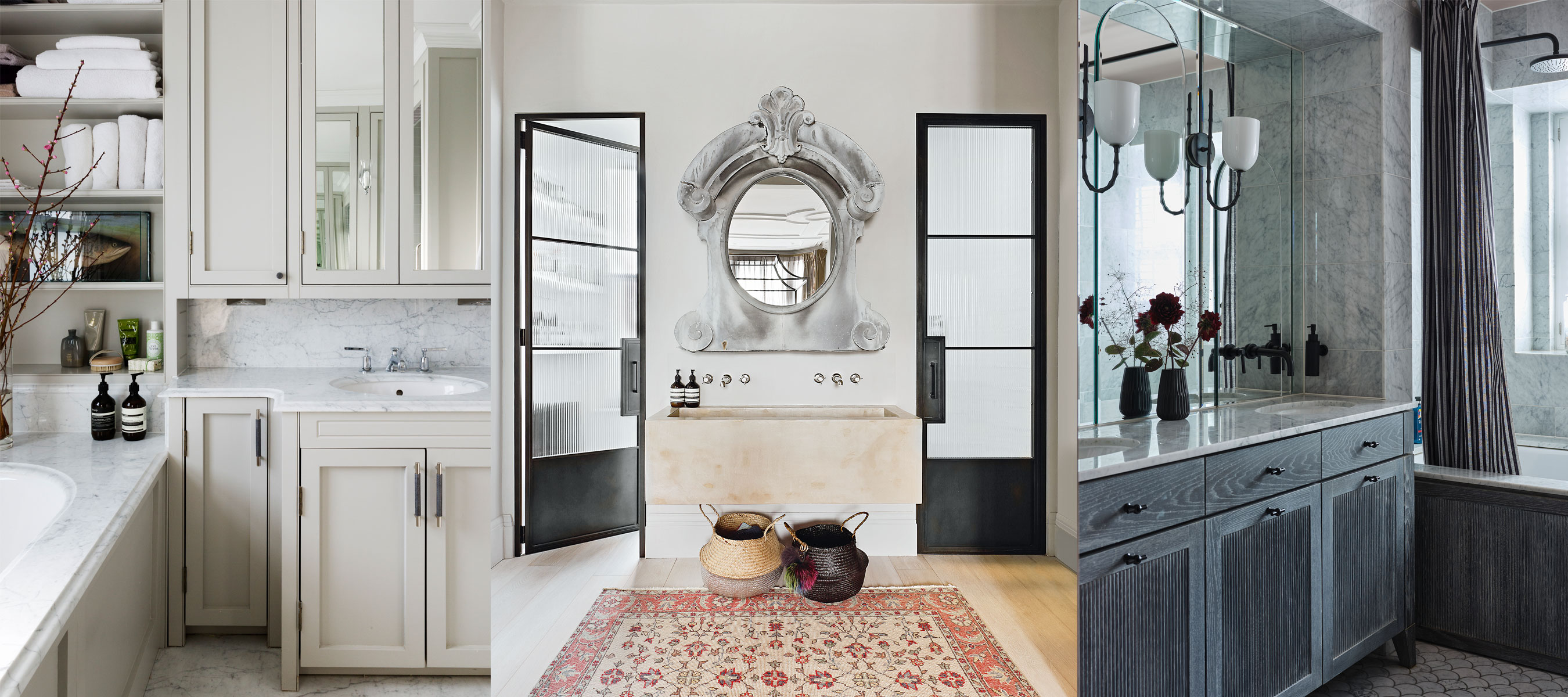 Determining storage location and accessibility
Once you have determined the type of storage solution that will best suit your needs, you will need to decide on the location of the storage. Depending on your specific space and preferences, it can be beneficial to choose a storage solution that is easily accessible in small bathrooms or one that is tucked away in larger bathrooms. It's important to consider accessibility when deciding on the location of your storage solution.
If installation requires drilling into a wall, it's important to remember not to mount goods where plumbing or electrical lines are present. Measure twice and drill once! You will also want to keep in mind your bathroom fixtures, windows or other design details when choosing a spot for system installation as these objects can impact functionality. Additionally, if aesthetics are important for you, be sure to consider how the location you are considering fits into the overall design of your space.
Considering design and style preferences
When selecting your storage solutions, it's important to consider design and style preferences. Bathroom storage should both look attractive and fit with the overall decor of the room. Popular styles include contemporary, traditional, modern, and vintage. Material choices can also help you create the desired look and feel in a bathroom. Popular materials for bathroom storage include wood, metal, glass, and plastic. Additionally, colors like white or gray can give a bright airy feeling to a room while dark colors such as black or brown may help create moody vibes.
If DIY projects are more your style, you may be able to incorporate repurposed items such as an old dresser or shelf into a unique custom design that creates an aesthetic blend with modern elements in your space. When you have determined the type of furniture that fits best with your desired aesthetic and available space, then you can proceed on to measuring for installation purposes.
Evaluating budget constraints
Once all of your storage needs have been identified and the ideal solution has been identified, you must evaluate your budget constraints to determine what type of storage solution is feasible. There are a range of options available in terms of material and cost, and while it's easy to be seduced by design features or brand names, it is essential that you thoroughly assess the way an individual product will fit into your overall budget.
It is worth taking a moment to consider precisely how much money you want to allocate for bathroom storage solutions as this will dictate the types of products that you should consider. Remember that not all products are created equally; some may promise more features than others at lower price points, but be aware that those offering the most value for money may not always represent the most desirable purchase choice in terms of aesthetics or convenience. Ultimately, when evaluating budget constraints for bathroom storage solutions, one must identify both short-term and long-term priorities.
Types of Bathroom Storage Solutions
When installing storage solutions in bathrooms, it's important to take into consideration the overall size of the bathroom, as well as what types of items will be stored. The vast majority of common bathroom storage solutions span from shelving cabinets and medicine cabinets to vanity units and closets.
Shelves are usually mounted onto the walls for easy access and can be adjusted according to preference. Cabinets consist of multiple compartments designed to store items such as hygiene products, medicines or toiletries and serve as an ideal storage solution for a variety of scenarios including towel storages or even above-sink storage options.
In cases where space is limited, recessed cabinets offer a smart way of utilizing unused space in wall areas. Medicine cabinets present smaller options with mirrored doors in order to allow users to apply makeup or take inventory of items stored within designated compartments. Vanity units provide ample countertop space for beauty treatments or day-to-day grooming needs alongside additional shelving/compartment elements integrated into their design concept – typically including towel holders and drawers for extra added organization benefits. Last but not least is the traditional closet – providing reliable hangable storage & air circulation – allowing your family members to store their bathrobes, towels & other clothing items in an easily manageable manner!
Cabinets and vanities
Cabinets and vanities are essential storage items in any bathroom, both for utility and aesthetics. Selecting the right type to match the style of your bathroom is key to having a functional storage space. For example, wall-mounted vanities can be used to provide additional countertop space while freeing up the floor, while dimmable recessed lighting can provide an ambient effect while ensuring that your chosen cabinetry can be properly illuminated.
Be sure to measure your fixtures before purchasing so you know exactly what size cabinets or vanities you need. Additionally, installation can be tricky and requires specific skills, so have all necessary tools on hand before starting the project.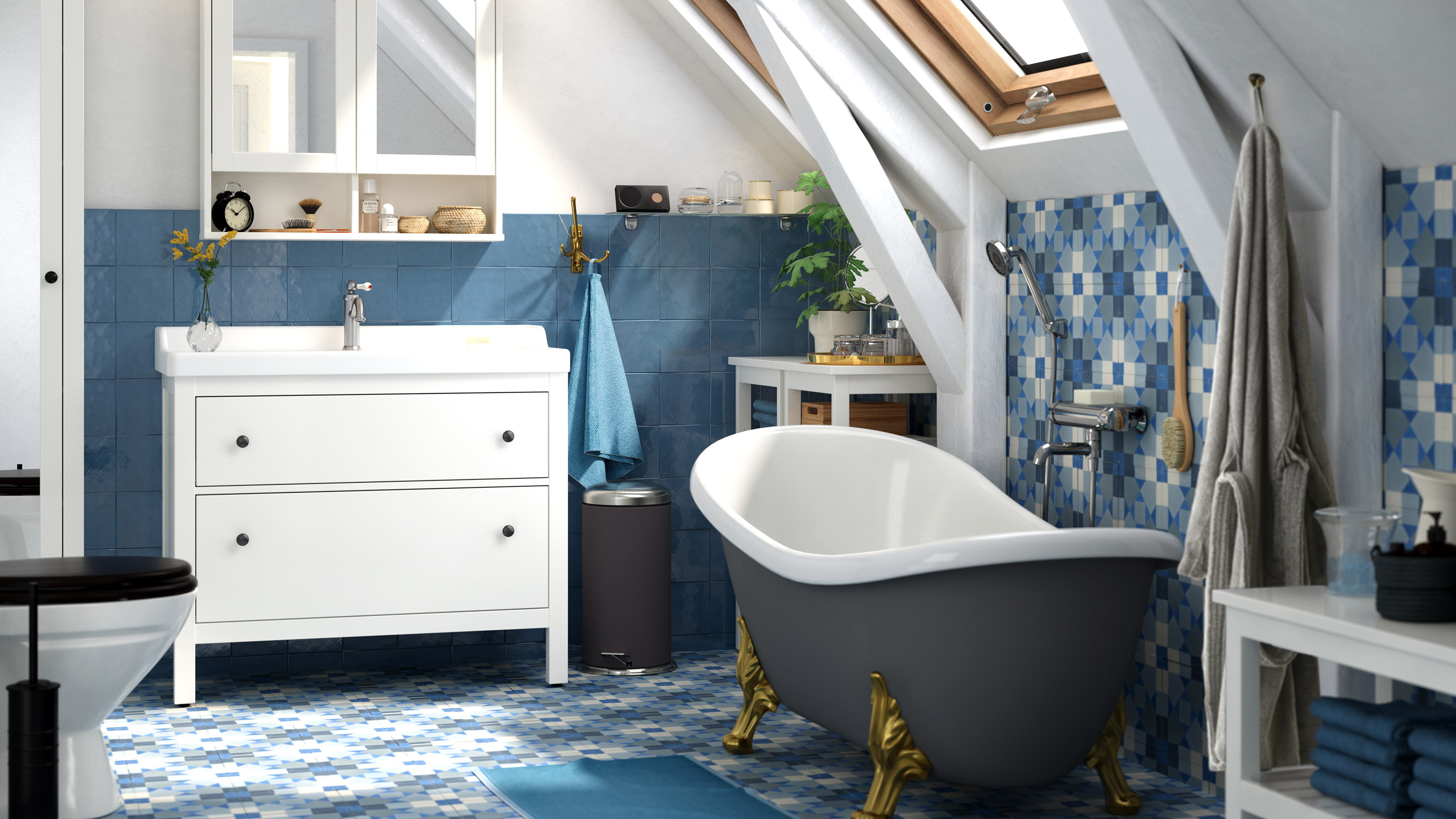 Shelves and racks
Shelves and racks are great bathroom storage solutions as they can be a flexible way of organizing all your small items such as containers and accessories. The best type of shelves and racks would depend on the size of the bathroom, but ideally, to ensure things are easy to access it's best to install them at a comfortable height.
Shelving for the shower or bath area is also a great option for storage space. There are various types of shelves and racks available in different sizes with either open wire shelving or closed shelf design that comes with doors or without doors. These can be mounted directly on the walls or over the door depending on how much space is available and what works for you as some people find freestanding shelves better for their needs.
Mounting shelves and racks can provide more functional use around faucets when attaching portable holders, but it's important to choose quality materials that are resistant to corrosion from moisture and heat while correctly supporting your items stored on them.
Conclusion
After carefully considering all the factors above, including budget, lifestyle and design considerations, you should have identified the storage solutions that best suit your needs. It's important to consider both beauty and practicality. This will ensure that you enjoy great looking and functional storage space in your bathroom.
Installing the right storage solutions can result in improved organization and functionality of the bathroom. In addition, it can make it easier to clean and keep the bathroom looking neat and tidy. Make sure that all measurements are taken accurately before purchasing any supplies or components so that they fit perfectly into their designated spaces.
Select quality materials to increase durability of your newly renovated bathroom storage space and also ensure a long-lasting result. Once everything is installed, rearrange items according to prioritization for easy access when needed quickly without putting too much effort into searching for what you need. Being organized not only looks better for aesthetics but helps maintain an organized system that works for each household differently depending on need and lifestyle choices.
See Also :