Are you looking for ways to add more storage to your bathroom and give it a much-needed facelift? Getting the right vanity is key.
You'll find all the information you need in this complete guide on how to properly choose and install bathroom vanities for improved storage and style. Prepare to upgrade your space with ease!
Introduction
Welcome to this guide on how to choose and install bathroom vanities. This home improvement activity may seem intimidating, but we're here to make it easy for you. By taking the right steps, you'll be able to replace or upgrade your current bathroom vanity with one that improves both storage and style.
Before you get started, you'll want to consider all the different factors involved in selecting and installing the vanity of your dreams. This guide provides an overview of the necessary steps, including research and preparation, choosing the appropriate size and shape for your space, selecting materials and hardware for best results, and installing the new cabinet.
The following information will ensure that you have a successful project from start to finish. Read on as we walk through each step of replacing or upgrading a vanity in your home.
Importance of choosing and installing the right bathroom vanity for improved storage and style
The bathroom vanity is the focal point of most bathrooms and the style of your vanity can transform a room from drab to luxurious. Choosing and properly installing a bathroom vanity is important for improving both storage space and style. Since bathrooms are typically one of the smaller rooms in the home, it's important to make sure your vanity fits well. It should provide enough storage space for all your needs while also being aesthetically pleasing.
When selecting a new bathroom vanity, be sure to consider factors like size, countertop material, sink type, storage types and color. The dimensions should fit exactly into the available space you have in the bathroom. Countertop materials range from natural stone such as granite or marble to synthetic materials such as laminate or solid surface composite materials like Corian® that are resistant to water stains, scratches and dents. It's also essential to select a sink that functions with the other components of your vanity; many sinks sit directly on top of or are integrated into countertops made from natural stone due to their weight.
If you want more storage space than what's available with traditional vanities select an oversize one dresser style option instead – these will give you extra drawers above countertop surface area for keeping additional items stored away neatly yet within easy reach when needed too! Lastly, make sure that your new vanity complements other design elements in your bathroom such as wall color & tile motif so it feels cohesive overall. By following these steps you can create an improved storage & style experience by adding just one piece!
Brief overview of the guide
This guide will show you how to choose a bathroom vanity that can improve both the storage capacity of your bathroom and add style. It provides instructions from start to finish and covers topics such as assessing your current storage needs, researching design options and trends, sourcing, buying and installing the perfect vanity for your space.
Additionally, it provides an illustrated step-by-step guide with tips and tricks for successfully installing your new vanity. Whether you're looking for a wide open center to place your towels or just a small corner unit to manage all of your grooming necessities, this guide has got what you need.
Designed with the novice user in mind, this guide is complete from start to finish — covering every aspect of selecting and installing a bathroom vanity with ease and confidence.
Choosing the right bathroom vanity
Having a well-designed bathroom is important for creating a functional and relaxing space. Installing the correct vanity is an important factor in achieving that perfect look. Here are factors to consider when selecting a new bathroom vanity:
Size – The size of the room and existing fixtures will determine what size vanity you can get, so measure the space before shopping. If you need additional storage, consider getting a larger vanity cabinet with more drawers and shelves.

Style – Consider the style of your bathroom when selecting the style of your vanity, such as contemporary or rustic designs. You want to match the style of your bathroom with the style of your vanity to achieve an overall cohesive look and feel. Traditional designs like furniture-style vanities offer a more homey ambiance while modern designs offer sleek lines and angles that give a more organized look.

Materials – Vanities come in different materials such as wood, laminate or metal so you have many options available to choose from depending on budget and personal preference. Wood typically offers warmer tones for natural appeal while laminate works great for modern bathrooms due to its sturdy yet lightweight makeup . Metal, especially stainless steel is great for those seeking bolder solutions with durability that holds up over time .

Configuration – Make sure you get all the elements you need including sinks, countertops, mirrors etc when purchasing your vanity so it fits yours preferences and needs perfectly. A single sink freestanding unit may be all you need for small spaces, or if sharing, consider double sink styles or side by side models instead.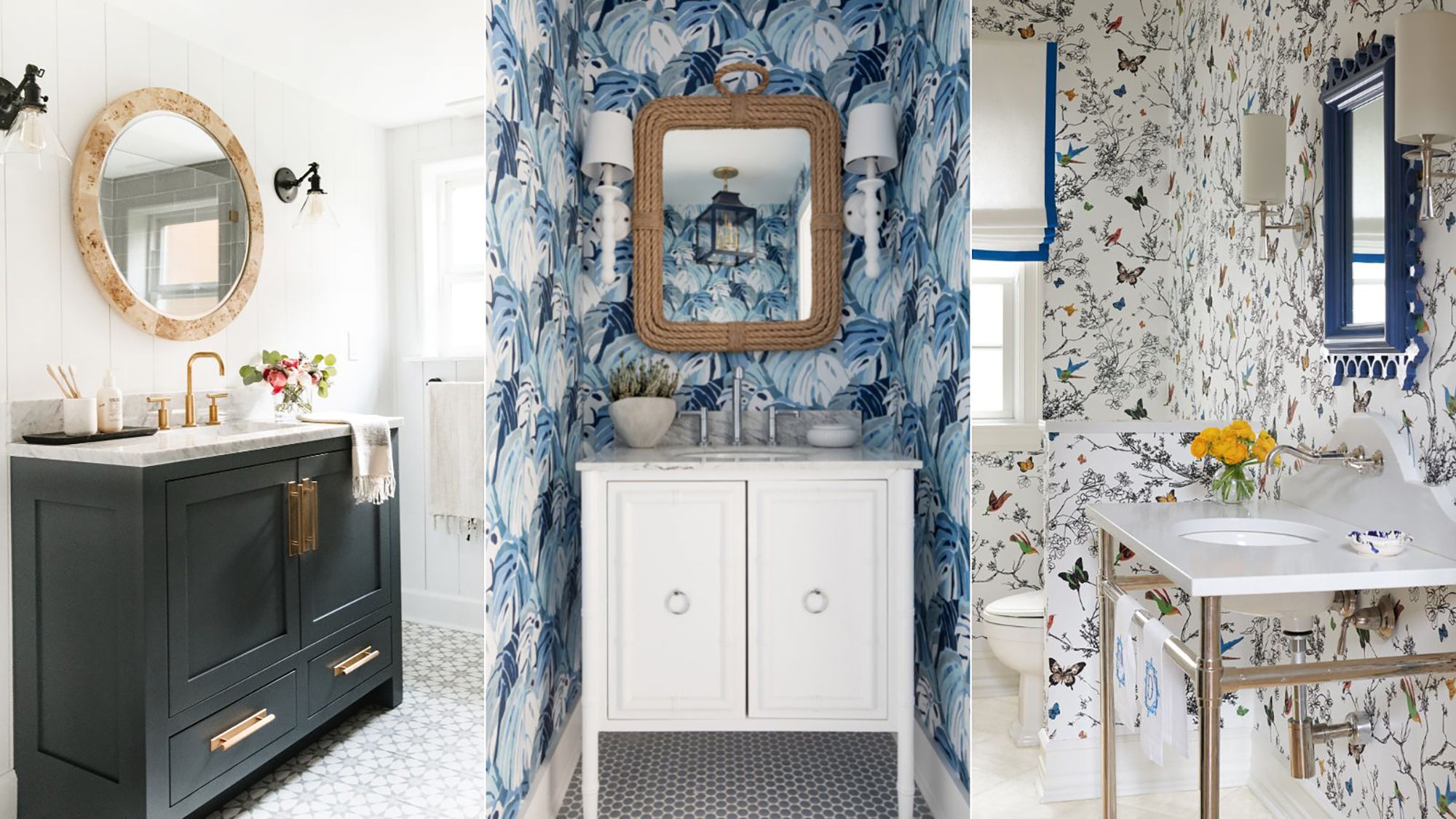 Types of bathroom vanities
A wide variety of bathroom vanities are available on the market, from traditional freestanding vanities to modern floating wall-mounted designs. Each type of vanity offers a slightly different mix of storage and style, so it's important to consider what your bathroom needs before making a purchase.
Freestanding Vanities: Most traditional bathrooms feature a freestanding vanity — these units take up more floor space, but also usually offer more storage and countertop space. Freestanding vanities can be made from wood or metal and may feature doors, drawers, shelves and cubbies to store a range of toiletries, linens and other items.
Wall-Mounted Vanities: Also called floating vanities, wall-mounted models help create the illusion of extra floor space by eliminating the need for a vanity base or legs. This type of vanity typically has an open shelf beneath the sink basin that helps minimize clutter while providing easy access to toiletries. Wall-mounted units also match well with contemporary design styles and often have sleek handleless cabinetry for an even cleaner look.
Corner Vanities: As their name implies, corner vanities are designed for use in the tight corner spaces near tubs or showers where freestanding vanities won't fit easily. Corner options come in both rustic wood designs as well as chic metal models depending on your style preference, but all offer utilitarian looks with minimal fussiness — perfect for smaller bathrooms. Corner units usually take up less countertop space than freestanding options and come in both shallow dish versions suitable for day-to-day use and deeper undermount styles designed for large soaking tubs and showers.
Freestanding vanities
Freestanding vanities are self-contained units that offer thoughtfully designed storage compartments. They come in a variety of materials, shapes, sizes, and colors to meet almost any design and storage constraints. Freestanding vanities often have creative options that are stylish. You'll need to measure the area where you intend to install the vanity prior to shopping so you can select one that fits perfectly. To ensure a good fit it's important not to forget about measuring in between, over and under cabinet space. Additionally, you'll need some basic tools for installation such as drill and driver bits, safety goggles and tape measure.
Freestanding vanities are quite popular because of the flexibility they offer more than standard vanities do when installed into limited bathroom spaces like small bathrooms or half-bathrooms known as powder rooms. When installing freestanding vanity in these bathroom types it is important to consider door swing clearances around the vanity opens when considering size requirements for installation sites due to limited or nonexistent cabinet dimensions or larger door openings with fewer cabinets built into bathrooms walls in comparison with standard vanity builds which generally offer all items up front along with enclosed storage spaces within their frames relying on never installed wall installations for storage spaces making them easier installs for users who prefer stationary without major interior construction/remodels which freestanding can provide but would also require slightly more involvement during install time given no pre-installed support framing exists within the walls of washroom compared to standers being able to attach immediately using provided brackets/hardware sets via slight hinges tasks depending on exact model chosen accompanied by reasonably easier structure instructions that any average person could complete while spending minimal time usually 1 hour or less per item base installs around straight forward instructions since pre-designed operations are done prior during manufacturers side construction stages such as chosen plumbing coordinating and framed attachment closures etc.
Wall-mounted vanities
Wall-mounted vanities are a great style choice for maximizing bathroom space and creating an open feel. This type of vanity hangs with brackets directly onto the wall, giving you access to both the floor and wall space. Depending on the design, it may include storage on a shelf under the sink, as well as features such as drawers and cabinets.
In some cases, these vanities float off the floor; however, in more traditional designs, they rest on feet that fit inside of your desired vanity depth. Wall-mounted vanities offer increased potential for creating an eye-catching feature wall with their most common asset – modern elegance. Plus, since these cabinets don't proceed too far out into the room and instead hang against the wall for storage purposes, there's plenty of room for other items in your space without looking cluttered.
When installing a wall-mounted vanity, it must be set at a certain height to ensure practicality. There's no one "right" height as this depends on your personal preference; however 32 – 36 inches is generally common usage when it comes to comfort level. When mounting these vanities to your walls or studs you should use lag screws and use appropriate supportive wood blocks when necessary to increase stability and reduce weight stress on walls or studs that don't have adequate support. Before buying any materials or attempting any installation process make sure to check local building codes as some places might have specific regulations about mounting bathroom cabinets/vanities onto walls within residential homes or local businesses/organizations.
Corner vanities
A corner vanity can be a great addition to smaller bathrooms. Since a corner vanity takes up less floor space, it can help open up the overall space of your bathroom. It also provides an ample amount of storage as many corner vanities come with drawers and cabinets for you to store your bathroom items in.
When installing a corner vanity, it's important to make sure you measure the area, as there are many sizes available and it's important to choose one that fits into the space. Also, make sure all of the measurements are correct before you install – this will help ensure that everything fits properly and looks great.
You should also keep these tips in mind when selecting your vanity:
Choose materials wisely: If you are looking for an eye-catching piece, consider adding some marble countertops or tiles in a contrasting color. The walls should be chosen carefully as well, since colors like pastels will brighten up the look dramatically but may dominate a smaller space which could give off a cramped feeling.

Choose practical features: If your bathroom has limited space and only accommodates one sink, opt for double sink vanities if you need multiple sinks. This way there is no compromise on how much storage or how much style you need; everything is taken care of while reducing clutter within the bathroom area.

Include lighting surrounding the unit: For improved visibility within the bathroom consider adding lighting around your new vanity such as sconces alongside each side or overhead lights directly above them – this not only adds extra light to your bathroom but helps eliminate clutter from having to deal with nightstand lamps taking up valuable space in closets/drawers within the small area!
Double sink vanities
Double sink vanities are a popular choice for shared bathrooms. Not only do they provide plenty of space for two people to get ready in the morning without disrupting each other, but they also help bring harmony and symmetry to the area. Before you decide on a vanity style, it's worth exploring some of the other options available so that you can choose one that works best with your bathroom layout and existing décor.
When selecting a double sink vanity, think about how many sinks you actually require; if it's just going to be two people using the bathroom, then one sink might be enough to offer both of you enough space — but if there are three or more in the family, then dual sinks are needed for convenience. Make sure that there is sufficient basin space on each side; ideally this should be at least 450mm wide so two people can fit their hands into the basin comfortably when washing up.
Other considerations with double sink vanities include storage capacity — if your family requires multiple storage areas – plus water supply and drainage arrangements specific to double-basined vanities. It's worthwhile checking what type of taps and drains need to be used on twin sinks before deciding on a style; usually ceramic or stainless steel models will suit most décor styles.[1] The size and weight of the vanity is another important factor since they will need extra support when installed — especially with larger units.[2] Ensure that all appropriate fixings come supplied with your product in order for it to be safely secured before use.
Installing the bathroom vanity
Installing the bathroom vanity is a critical step in ensuring a successful renovation process. It's essential that you properly secure the vanity with proper mounting materials and that you take into account any potential areas of water damage, such as near sinks and showers, while doing so. Here are some things to consider when installing your bathroom vanity:
Read all product instructions carefully before beginning the installation process. Make sure to measure twice before making any alterations to the wall or plumbing, as taking accurate measurements is paramount for a successful installation process.

Choose the best location for mounting your new vanity. Ensure that it is far enough away from possible sources of water damage, such as showers and sinks, so it will be protected from leaks or moisture getting through to its base.

Securely mount the vanity in place using appropriate fasteners and screws – make sure they're corrosion-resistant if they will be placed in contact with water sources.

Once secure and installed on the wall, install any drawers or doors into their respective slots according to manufacturer instructions. Make sure everything fits snugly and securely into place before moving on to adding plumbing fixtures such as taps and sinks.

Finally, add any cosmetic trim pieces or fixtures such as towel rods to complete your look – make sure these pieces are firmly attached so they don't come loose over time!
Tools and materials needed for installation
Installing a new bathroom vanity requires a few essential tools and materials. To complete the installation in one day, it's important to have all the necessary tools on hand before beginning. Here is a list of materials and tools needed to properly install your new vanity:
Tools: -Accurate measuring tape -Circular saw -Hole saw or jigsaw -Drill or screwdriver -Caulk gun -Leveler -Hammer or rubber mallet
Materials: -Shims for leveling the cabinet (optional) -Wood screws and nails for securing the cabinet -Silicone caulk for around the sink connections and seams in power lines
Once you have all the essentials ready, it's time to begin your installation. Make sure all connections are secure, walls are even, and materials are level—this will ensure that your vanity looks great for years to come!
Steps to follow when installing a bathroom vanity
Once you have selected the perfect vanity for your bathroom, there are several steps that need to be taken before you can use it. Proper installation is essential to ensure safety and stability, as well as maintain aesthetic appeal. To help you with the process, here are some steps to keep in mind when installing a bathroom vanity.
1) Prepare the area: Before installing your new vanity, make sure to clear out the area where it will be placed. Ensure that all necessary electrical or plumbing setups have been completed so they will not interfere with or be damaged by the project. Make sure to measure the walls and floors so that your new vanity is fitted properly and secured against cracking or slipping in the future.
2) Mounting: Once everything has been cleared, double-check that your new vanity fits properly in terms of both height and width. Secure mounting hardware on studs inside of wall cavities if applicable and then carefully place your new locker on its base. Secure the pieces together using screws predrilled for this purpose then attach water lines if needed before finally completing installation with plumbing tape or expanding foam caulking sealant around exterior edges if required for additional support & insulation.
3) Vanity top & other pieces: Depending on which model you have chosen, a sinktop may need to be connected at this point as well as an under-cabinet storage unit or other accessories like a medicine cabinet or mirror frame that may also have come with your purchase (check instructions included). Attach securely using screws provided and finish up by positioning all hardware like handles/knobs/hinges before finishing off installation.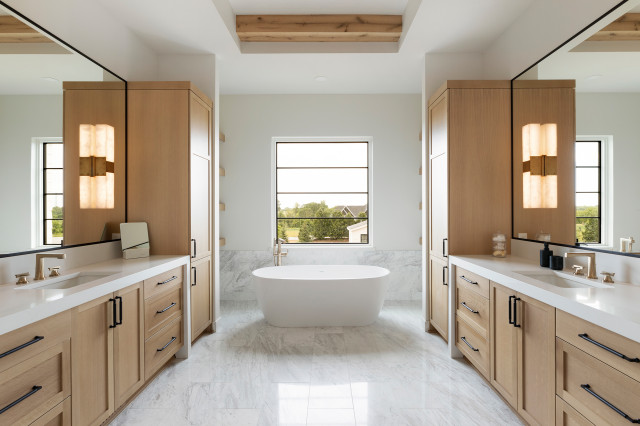 Conclusion
Regardless of which avenue you choose to take, when it comes to installing a bathroom vanity, you'll want to make sure you measure the space accurately, review all installation instructions, and allot plenty of time for assembly and installation. Additionally, consultation with an experienced home design professional or contractor can be beneficial in finding the right size and fit of vanity for your bathroom.
Consider starting off small if you're on a budget and if not sure which style of vanity will best suit your needs. Remember to factor in matching accessories such as mirrors, lighting fixtures, and more when selecting furniture for your new space.
The final step before enjoying your new freshened up bathroom is to clean up any mess created during installation process! Finally we hope that with the above guidelines, you should now have a better understanding on choosing and installing bathroom vanities for improved storage where you can enjoy all the necessary upgrades to make life so much pleasant in every aspect.
See Also :