Are you looking to increase the safety and accessibility of your shower? Installing a new shower bench or grab bar is an easy way to make bathing and showering easier and safer.
This comprehensive guide will show you how to properly install and secure a shower bench or grab bar, so you can enjoy greater peace of mind while using your bathroom.
Introduction
The installation of a new shower bench or grab bar is a safety and accessibility improvement that can provide an increased sense of independence for people with mobility issues. Improved safety and accessibility can help an individual gain greater comfort in their bathroom environment.
This guide will provide detailed instructions on how to properly install a new shower bench or grab bar in four steps: assessing the space, planning and measuring, purchasing the right hardware and tools, and installation. Following these steps could make all the difference when it comes to your safety while using the shower bench or grab bar. Read on to learn more about each step in the process!
Explanation of the importance of shower benches and grab bars
Shower benches and grab bars are important for improving safety in showering environments and providing better accessibility for those with limited movement. These features have been carefully designed to offer support and stability, as well as eliminate any slipping or sliding that can occur from wet surfaces.
Furthermore, a properly installed shower bench or grab bar allows for greater comfort in the shower while offering an additional sturdy point of contact to reduce the chance of falls. Additionally, these items can help enhance any bathroom they are placed in, giving it an extra aesthetic element.
Thus, introducing a shower bench or grab bar into one's bathroom will provide a more pleasant experience during one's daily cleansing routine while also providing additional safety precautions.
Brief explanation of the benefits of installing new ones
Installing new shower benches and grab bars in the bathroom is an important safety measure for both young and old, helping to prevent accidents and falls. These benches or grab bars provide improved accessibility, making it easier to get into and out of the bathtub or shower. Additionally, they can add a decorative touch to your bathroom while complementing existing décor.
Installing a bench or grab bar securely is essential so that they can withstand heavy use over time. Here are some tips on properly installing new devices to ensure optimum safety and accessibility in your bathroom.
Assessing the need for a new shower bench or grab bar
Before beginning to install a new shower bench or grab bar, it is important to assess the need for the safety or accessibility enhancement. Shower benches and grab bars can be helpful for people with limited mobility, balance issues, or fatigue in the shower. Grab bars are essential for helping maintain balance while sitting down and standing up and can help reduce the risk of slipping. Before installation of a new bench or grab bar, it is important to measure and determine where you would like it installed. By assessing your need before purchasing, you can ensure that your specific situation is taken into consideration when choosing your product.
Furthermore, if you are installing in a bathroom that previously held a standard bath tub without any safety features included in its design there may be additional steps needed before installing an effective system that meets the specific needs of the particular bathroom layout. This additional step may include reinforcing studs so they are properly able support not only the bench or grab bar but also any additional weight added by individuals using them. Additionally it is worth factoring into this assessment any special architectural considerations that could impact installation such as wall treatments (e.g., tiling), flooring material (e.g., non-slip padding or tiles) and obstructions such as pipes which could afford ideal positioning for accessories like grab bars.
Determining if the current one is damaged or inadequate
Prior to installing a new shower bench or grab bar, it is important to determine if the existing one is damaged or inadequate for the user's needs. Check for any cracks, chips, or rust on the bench or bar. If there are any signs of damage and wear, it is recommended that a new one be installed as soon as possible.
Additionally, if the current shower bench does not provide adequate support for a user's individual size and needs, consider replacing it with a more suitable size and weight capacity model. To ensure the highest degree of safety and accessibility in your bathroom, consult templates online of recommended height and width measurements so you can best provide what meets your user's individual needs.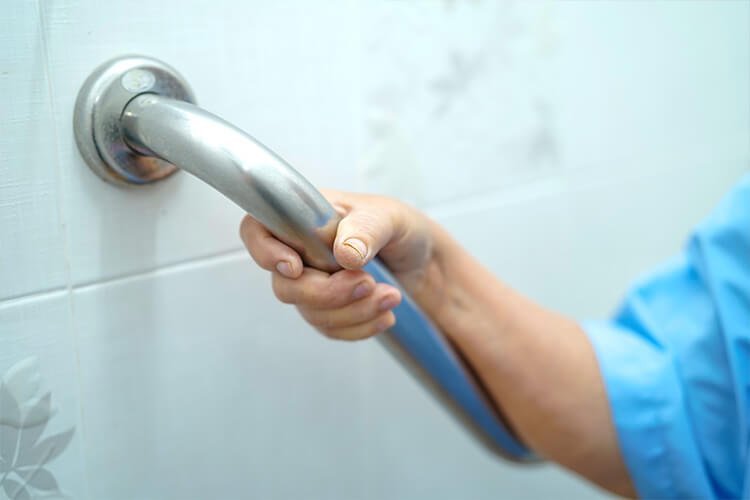 Checking for signs of poor safety or accessibility
Before beginning installation of any safety items in a shower, such as a bench or grab bar, it is important to ensure the bathroom is compliant with current codes for accessibility. This means visually inspecting the space for potential problems that may impact a customer's safety and ability to access showering areas.
Common hazards may include:
Uneven flooring can impact foot traffic in a bathroom and create uneven surfaces for standing and sitting in a shower space.

Inadequate lighting and visibility can reduce safety. Poor visibility may contribute to slipping on wet surfaces when using benches or stools or transferring into a bathtub.

Inadequate drainage should be checked, as this also contributes to slipping on wet surfaces

Inappropriate grab bar placement can create unsafe transfers and require adjustment before attaching additional bars.

Lack of slip resistance on shower floors can reduce accessibility and increase the risk of slipping when using benches or stools in the shower space.
Once it has been determined that common hazards have been addressed, proper installation of any accessory item such as benches and bars can be completed safely.
Planning the installation process
Before beginning the installation process, it is important to plan carefully. The area in the shower or bathroom should be properly measured, noting any pipes and wires that may be present. Additionally, figure out where you would like the shower bench or grab bar to be placed for improved comfort and easy use.
With appropriate measurements and considerations in mind, choose a shower bench or grab bar of suitable size and materials that match your requirements and preferences. Make sure to also ensure there are no potential safety hazards within areas of access such as slippery surfaces, loose tiles etc. Additionally, take special care if you plan to install the shower bench or grab bar into an existing wall or surface; consider the type of screws and fasteners necessary for a secure attachment if you're drilling into existing concrete or tile walls.
Finally, make sure you have all necessary tools on hand before beginning installation. Now you are ready to begin!
Selecting a new shower bench or grab bar
When selecting a new shower bench or grab bar for improved safety and accessibility, it's important to first consider the needs of the user. A variety of models and styles are available to suit an array of individuals, from elderly persons seeking extra support to those with limited mobility who rely on mobility aids such as canes and walkers. Additionally, it is wise to measure the available space in the shower area to determine the maximum size of bench or bar that can fit comfortably.
To ensure that your selection will offer maximum stability, select a model with claw feet made of slip-resistant rubber or suction cups that adhere firmly to tile surfaces. When considering benches, look for a model with seat height and width designed for comfortable bathing as well as textured surfaces offering added grip for users. In terms of grab bars, find models equipped with sturdy metal flanges that recess into wall studs using lag screws for optimal security. Some models feature telescoping legs so they can be used on either side of an opening as well as inside and outside corners – these offer more versatility when space is limited.
Regardless of your selection, universal design should always be taken into account when selecting a new shower bench or grab bar for improved safety and accessibility; ensure any item you purchase is ADA accessible in order to accommodate those with special needs or physical limitations.
Gathering necessary tools and materials
Installing a shower bench or grab bar in your bathroom can enhance the safety, comfort and accessibility of your space.
It is important to gather all of the necessary tools and materials before beginning this project. You will need a measuring tape, drill and drill bits, screwdriver, carpenter's level, anchor bolts and screws, drill bit wall anchors, caulk and silicone sealant, wet tile saw (if installing a bench), a masonry bit (if installing in tile), appropriate sized wrench for the install points on the grab bars.
It is also helpful to gather any additional tools that may be required for your particular installation such as a game chisel if removing existing tile grout or sheetrock saw if altering sheetrock to install behind shower walls.
Once you have gathered these materials you can being your installation process.
Preparing for the installation
Once you have chosen the right location for your shower bench or grab bar, you will need to gather together the right materials and tools. Before you start the installation, it is important to ensure that you have all of the items needed, including screws, bolts, anchors, plumber's tape, a drill and drill bit, an adjustable wrench and a level. Be sure to read all of the instructions that come with your bench or bar before beginning installation. Prior to installation, make sure there is no existing damage to surrounding walls or floors.
When working with shower benches and grab bars, it is important to plan for proper installation. The area for installation should be cleaned with appropriate cleaning solutions beforehand; dry all surfaces thoroughly prior to installation. If necessary for stability purposes and depending on wall or floor type, pre-drill holes into either surface before installing your bench or grab bar; if needed this can also be accomplished after partially fastening wall fixtures onto one side of the surface material. Consult a professional contractor if you are unsure of any steps in this process.
Determining the best location for the bench or grab bar
In order to properly and safely install a shower bench or grab bar, it is essential to determine the optimal location before any installation begins. When locating the position for a bench or grab bar in your shower, consider adequate space for both the user and any visitors that might use the shower as well.
The height of a bench or grab bar should be located between 33 and 36 inches from the floor. Additionally, it is important to make sure that the bench is level on both ends and has ample support under each end so that it can safely bear weight once installed.
Make sure that the benches are far enough apart to accommodate users of different heights, so access can be easily obtained for all parties involved. When placing horizontal bars either near or around your tub/shower area make sure that there are no sharp or exposed edges within reach of bathers because these could pose safety hazards if left unguarded.
Finally, when selecting function over form when designing your space make sure that you remember access with consideration to those with physical disabilities must always come first when constructing showers, bathtubs and other areas you want safe while also providing an aesthetically pleasing look and feel in conjunction with functionality.
Marking the location and drilling holes
When choosing a location for your new shower bench or grab bar, it is important to select an area where you will have adequate access, clearance, support and stability. This will ensure the safest and most effective use of this important addition to your bathroom. Professional installers usually begin by marking the location with a level and a marker pen, in order to make sure that the protruding piece of equipment is properly aligned with the existing fixtures.
Once the appropriate height has been determined, holes need to be drilled into the wall in order to install mounting anchors. The size of hole required will depend on the type of anchor being used – such as toggle bolts for drywall or concrete anchors for tile – but it should generally correspond to the diameter of the mounting hardware provided by your manufacturer's instructions. To ensure that your anchor is properly located in relation to your preexisting fixtures and other pieces of bathroom equipment, mark two reference points on both sides that are equal distance away from other objects by measuring between them with a tape measure before drilling any holes.
Conclusion
Congratulations on successfully installing your new shower bench or grab bar! We hope that these simple steps have helped you secure both accessibility and safety in your bathroom. Installing a shower bench or grab bar is an integral part of improving the accessibility of a bathroom for those with mobility needs, but these tools also have the potential to reduce dangers associated with slipping and falling in the shower.
Your newly installed shower bench or grab bar not only offers a comfortable and safe space, but it'll also help provide peace of mind through improved convenience and stability. By simply following these instructions and depending on quality products, you can easily feel confident that you're installing a product that will last for years to come.
Thank you for using this guide as your resource for this project!
See Also :